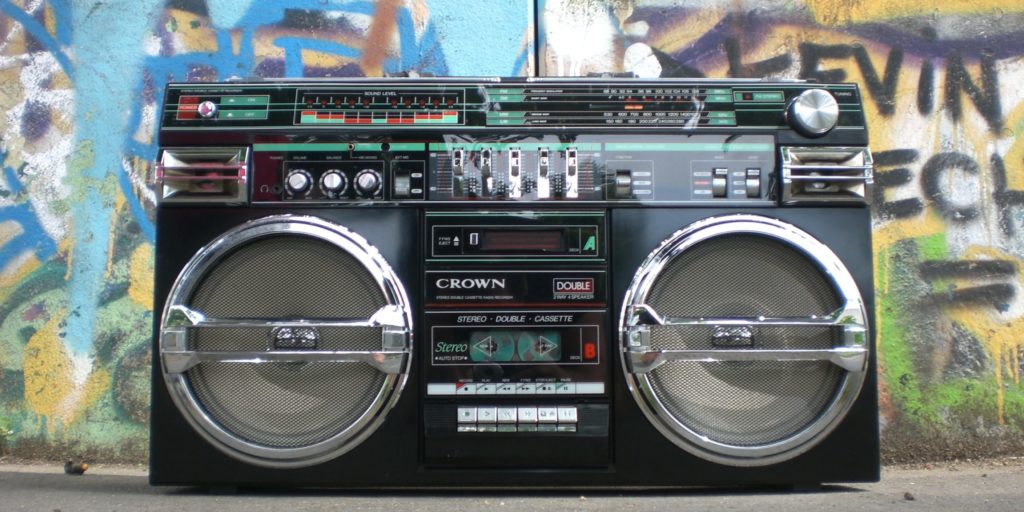 I grew up on Hip Hop, studied Yo! MTV Rap videos with my brother to learn how to move, bought the albums, mouthed the lyrics on the bus.
The lyrics. Yikes.
I was singing "Poison" by Bel Biv DeVoe the other day – a seemingly benign recitation… And then I got to that part where Ronnie says:
That low-pro ho should be cut like an afffff-ro.
Uh oh.
I was driving at the time. My kids were in the back.
It just got worse; talking about how a girl is a loser for wanting to have a sex life — reminiscent of another Hip Hop track: Kool Moe Dee's "I'm-a-Player":
A guy with a hundred girls is a hero; a girl with a hundred guys is a zero. Don't blame me that socie-tee made the rules.
It's tough to reconcile my past and present.
OLD ME dancing in clubs in bug-out shirts and MC hammer pants. NEW ME, raising daughters and seeking enlightenment.
Damn.
I've had to whittle down my collection.
And I'm not just talking about the gratuitously smutty lyrics of 2 Live Crew but also the rhyming genius of Doug E. Fresh, LL, and Slick Rick. Amidst all those inventive lines of poetry and pain, they got some pretty lame shit to say, at least from a human rights standpoint. 🙂
Honestly, I'm resentful of the loss. Songs I used to dance to in front of the TV and listen to while getting dressed for school… they're not allowed out of the album sleeve anymore.
Same goes for my ancient standup-comedy cassette of Bill Cosby, one of the first live shows I ever saw, with both of my parents, at an outdoor amphitheater, in my hometown! That's so many levels of nostalgia it's ridiculous! Alas, all those lines about parenting and friendship and going to the dentist forced into the archives.
Being kind and respectful sure cuts into my repertoire.
But, hey, it's hard to rejoice about something when you know in the end it's a bad thing, like sucking on a poison lollipop.
The fact is, lyrics aren't just words. Statues aren't just stone. And the pieces that build us aren't necessarily worth keeping. They should be celebrated for getting us further along but they're really not as sacred as we claim, at least not if we want to keep going. Reevaluation is critical to survival.
It's how we grow: by sifting through what we got and what we need in order to thin down our collection and make room for something new.
So, I'm okay with losing 2 Live Crew.
Because now I got Beyonce.
And that's a pretty sweet trade.